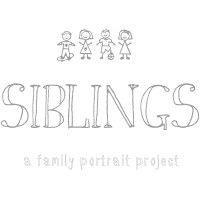 It's exciting to be starting another year of the Siblings project. I really enjoyed last year's - everything was new. Now they're used to each other, and really enjoy being together. I'm looking forward to seeing how the dynamics change as M begins to walk and talk. Will they enjoy running around together? What will they talk about?
It's becoming increasingly difficult to get a photo of these two together where they both look at the camera, or at least stop moving long enough to not be blurry in the picture!
They're both so busy all the time. B is always playing make-believe, or dancing and singing to Frozen; M has discovered climbing up and down the stairs. M took 8 steps on New Year's Eve, but nothing since then - very bizarre. Her crawling has sped up a notch though! They're still very good at making each other laugh, but there are more frequents screams of rage when one or the other snatches something. We really try to work on the rule that whoever had it first gets to keep it until they're finished, so it's often a case of trying to find something more interesting to keep the other occupied. B has become adept at finding suitable swaps! Still lots of cuddles and kisses, and now a lot of imitation. Mainly M copying B, whether it's banging cutlery on the table or singing into a microphone, but also a bit of B mimicking M in a bid to "be a baby."
I really enjoy watching the girls play together, but I equally like the 5 minutes to myself I can get when they are occupied by each other.